Delicious VEGAN AND ALLERGY-FRIENDLY goodies made in Pittsburgh, PA!
Vegan means the treats contain no animal products including eggs, milk, butter, honey or refined sugar. [More about a vegan diet]. The menu is always expanding with more allergy-friendly desserts [More about My Goodies allergy-conscious options at the bottom of the page]. The goodies contain no cholesterol and are made with non-hydrogenated oils (no trans fats), and organic ingredients. We prepare small-batch and pay special attention to quality ingredients such as organic, non-GMO and locally-sourced grains, fruits & vegetables whenever possible. My Goodies prepares fresh for your special order. Currently all of the online menu is suitable for people with dairy and egg allergies and some items can be made with other allergies and preferences in mind, for instance soy free, gluten free, nut free or low-glycemic. My Goodies Bakery has a small selection of living (raw) desserts too.
Many folks shy away from vegan baked goods because they have a bad reputation of being bland, dry, and dense. At My Goodies Bakery we hope to dispel that stereotype. We believe we make delicious baked goods that just happen to be vegan. Find My Goodies at local Farmers' Markets, the East End Food Co-op, The Big Idea Bookstore Cafe, Ava Lounge & Cafe, Lili Cafe and other upcoming events or just check out the menu, send your special order and we will go from there.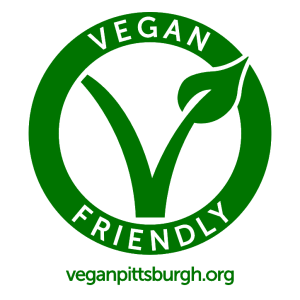 Events
I Made It! Jr
Saturday, April 19th 12:00 – 5PM
Find more on the
Facebook Event Page
I Made It! Market, Pittsburgh's nomadic indie crafts marketplace presents I Made It! jr, a pop up indie crafts marketplace featuring items for babies, kids, and parents. This year's event is presented as a part of The Waterfront's Eggstravaganza on Saturday, April 19th from 12 – 5 pm.
Enjoy a day of family fun complete with the Easter Bunny and an egg hunt, live entertainment, and Tall Cathy from
KISS
FM. Artists will be inside the space that was formerly Abercrombie and Fitch, across from Starbucks in the Town Center.
Also enjoy crafting with Assemble & Little House Big Art!. Kids can try their hand at screen printing with Most Wanted Fine Art, and get to know Literary Arts Boom.
The Regulars
Ava Lounge and Cafe
304 N. Craig Street, Pittsburgh PA 15203
Cinnamon buns
The Big Idea Bookstore
4812 Liberty Avenue, Pittsburgh PA 15224
Cinnamon buns, Delicious Yummy Bars, and chocolate chip bars
East End Food Co-op
7516 Meade Street, Pittsburgh PA 15208
Cinnamon buns, mini cheesecakes (assorted flavors)
Lili Coffeeshop
3138 Dobson Street, Pittsburgh PA 15219
Cinnamon buns, Chocolate chip bars, Gluten free pizelles (contain egg)
Three Little Birds Cafe & Juice Bar
3447 Harts Run Road, Glenshaw, Pa 15116
Chocolate chip bars (regular and mint) and cranberry walnut muffins
Visit
My Goodies on Facebook
to find other spots to get your favorite vegan goodies!
FARMERS
MARKET
SEASON
STARTS
Monday, May 12th in East Liberty
Coming soon… May 17th – The Waterfront's Summer Music and Marketplace Series
I will be unavailable for orders on…
April 19, 2014
May 2, 2014
June 1, 2014
June 29 – July 15, 2014 (you will find treats at the regular spots and some farmers markets during this time)
October 11, 2014